Some Derby County supporters have taken to Twitter to comment after former player Duane Holmes netted twice during Huddersfield Town's 4-1 win over Swansea City.
Holmes joined the Terriers from Derby towards the end of the January transfer window.
The versatile midfielder struggled for game-time under current Rams boss Wayne Rooney, making just a handful of Championship appearances while failing to impress.
Holmes later caused a stir after his signing, admitting he told Huddersfield's coaching staff he wanted to return to the club prior during a Derby friendly clash against the Terriers.
Now, some Derby fans have taken to Twitter to discuss Holmes' latest performance as he played a key role in the Yorkshire club's big win over promotion-chasing Swansea.
The difference between Duane Holmes's work rate/output today compared to at Derby prove that he didn't want to be here, and wasn't 100% committed like Rooney suggested.

I like the bloke and wish him well, but it does prove that Rooney made the right decision letting him go #dcfc pic.twitter.com/vwYpW0rqbM

— Jake Barker (@JakeBarker1212) February 20, 2021
It was the right decision to let him go but mainly because of his woeful inconsistency. Brilliant some weeks, poor most weeks. He never looked good enough over a prolonged period to play in a top championship side

— Steve Naylor (@stevenaylor) February 20, 2021
I agree with letting him go but I don't agree about his workrate. I always thought he worked hard for us and it was the quality of final delivery that was lacking. Maybe he's just happier there, and therefore his confidence has improved.

— 🍷 Ned W. Dogavic 🗿 (@dogavic) February 20, 2021
It's very disappointing he couldn't be arsed to put performances in for us. Lost any respect for him #dcfc

— Twedds (@METwedds) February 20, 2021
Duane Holmes getting ready for Tuesday then #dcfcfans

— M1K3 (@dcfc53) February 20, 2021
Duane holmes worse Derby player last season, scored 2 goals and people think he's ronaldo 🙄😂

— Reece 🐏 (@Reece2_dcfc) February 20, 2021
Lawrence performs at his best much more than Holmes

— 🃏 (@dcfcGeorge_) February 20, 2021
Holmes played either centrally or as an attacking wide player during his time at Derby.
The 26-year-old arguably played his best football pre lockdown last season, but after picking up an injury over the summer he found it difficult to make an impact this term.
Holmes scored just once in 14 Championship games for Derby this season.
But his latest display for Huddersfield was reminiscent of his form from early 2020. Holmes was more energetic, and his second goal was a 25-yard screamer into the top corner.
Arguably, he showed more desire than he had done at Derby for months.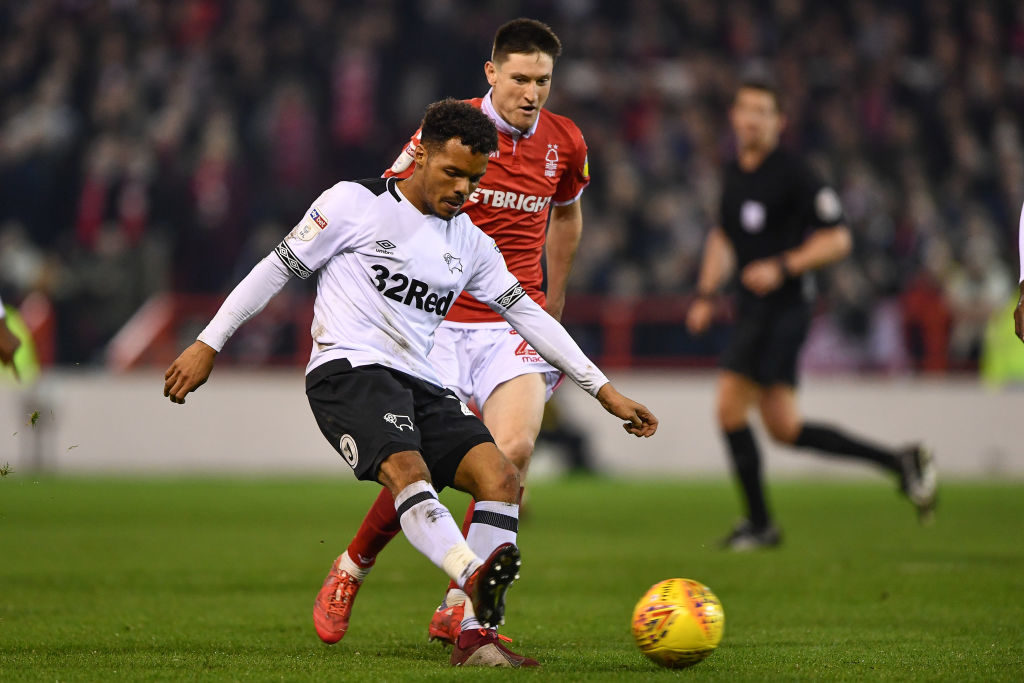 Aside from his excellent finishing, Holmes also posted a 92.3% pass-accuracy rate and completed one key pass and one successful dribble before his late substitution.
Ironically, Huddersfield's next match is against Derby at Pride Park and it will provide an opportunity for both Holmes and Richard Keogh to get one over their former club.
Also see: Report: 27-goal striker wanted by Derby and Celtic seeks transfer move amid fallout
Also see: 'Outstanding' player Derby turned down reportedly could now join Championship rivals
Have something to tell us about this article?